Spacewalk Prep and Science Punctuate Launch Day for HTV-8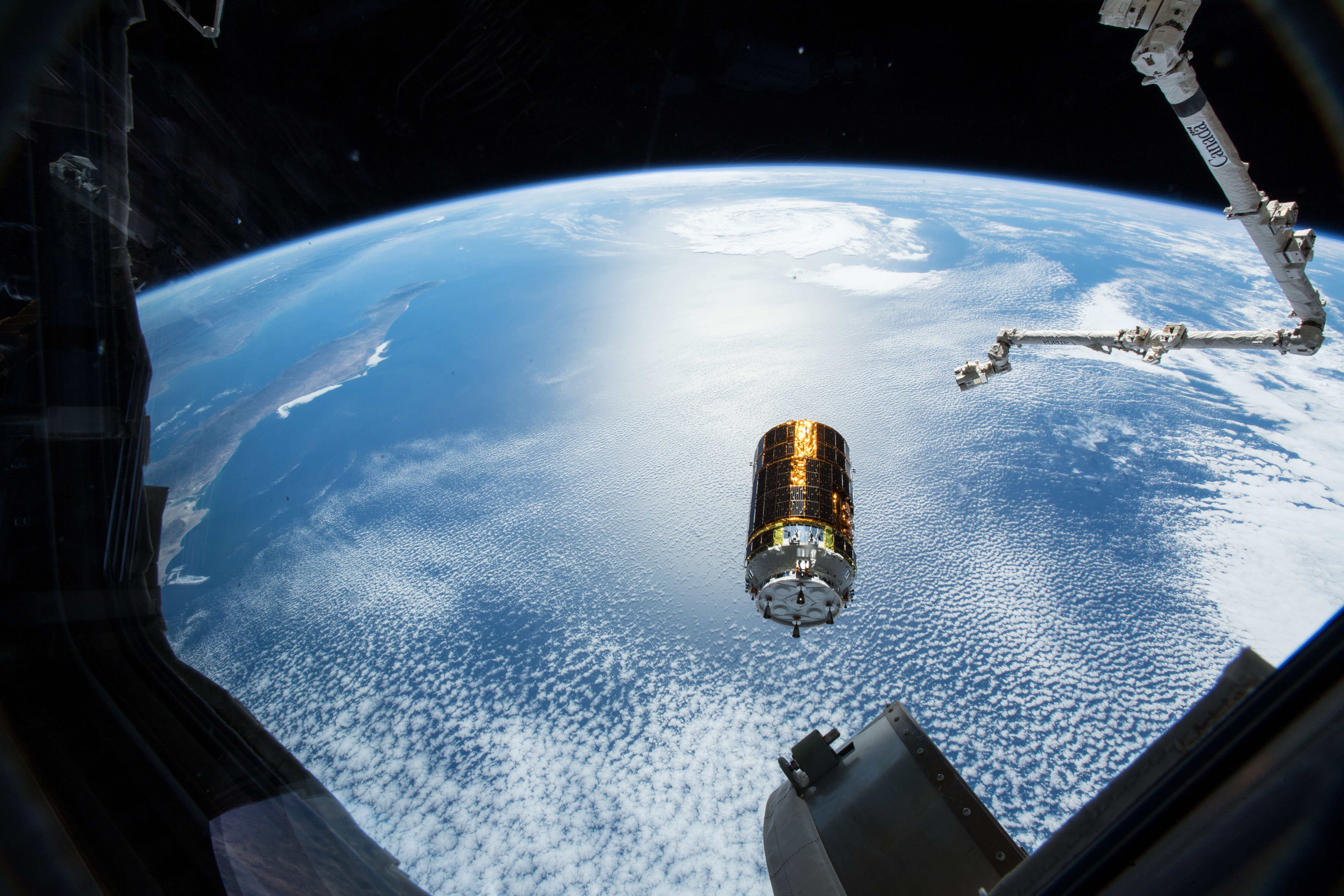 Ten years after the Japan Aerospace Exploration Agency launched its first H-II Transfer Vehicle (HTV) mission, today the HTV-8 "Kounotori" cargo craft will launch from the Tanegashima Space Center to the International Space Station. While launch is scheduled for 5:33 p.m. EDT, NASA Television will start its coverage at 5 p.m.  
Days after, on Saturday, Sept. 14, Expedition 60 Flight Engineer Christina Koch of NASA, backed up by her NASA crewmate Andrew Morgan, will operate the station's Canadarm2 robotic arm from the station's cupola to capture the 12-ton spacecraft as it approaches from below. Robotics flight controllers will then take over the operation of the arm to install HTV-8 to the Earth-facing port of the Harmony module, where it will spend a month attached. Flight Engineer Luca Parmitano of ESA (European Space Agency) will monitor HTV-8 systems during its approach to the station. 
Aboard the orbiting laboratory, preparations to receive the craft continue, with Koch and Morgan completing training to grapple the vehicle. They also performed several approaches with the Canadarm2 to simulate HTV capture. 
Expedition 60 crew members worked on experiments that will give researchers on the ground insight into plant germination in a microgravity environment, supporting the possibility of plant growth on the Moon or Mars for human consumption or other purposes. NASA astronaut Nick Hague took additional photo documentation of the United Arab Emirates (UAE) Palm Tree Growth Experiment, which observes and documents the root development of the Date Palm in space — and plant vital to the UAE ecosystem. 
Hague also assisted Commander Alexey Ovchinin of Roscosmos with the Fluid Shifts investigation, using a Chibis Lower Body Negative Pressure suit to evaluate its feasibility as a countermeasure for postflight orthostatic intolerance, or the inability to maintain blood pressure while in an upright position. Though fluid loading and compression garments show promise in preventing this phenomenon, neither has proven completely effective for all phases of landing and egress; thus, research continues. 
Parmitano spent time recording an introduction for ISS Experience, previewing upcoming activities for the station crew. Filmed over many months, this cinematic virtual reality series will showcase living and working aboard the space station for viewers on the ground. He also worked with Rodent Research, powering down and stowing the habitat in a storage locker for later use. 
The crew also ramped up extravehicular activity, or spacewalk, preparations, gathering and configuring tools for an upcoming spacewalk that will upgrade batteries on the outside of the orbiting laboratory. 
Meanwhile, approximately 250 miles below, the Expedition 61 prime crew of cosmonaut Oleg Skripochka, NASA astronaut Jessica Meir and spaceflight participant Hazzaa Ali Almansoori flew from the Gagarin Cosmonaut Training Center in Star City, Russia, to their launch site at the Baikonur Cosmodrome in Kazakhstan to finalize pre-launch training for a Sept. 25 launch on the Soyuz MS-15 spacecraft to the space station. 
Learn more about station activities by following the space station blog, @space_station and @ISS_Research on Twitter, as well as the ISS Facebook and ISS Instagram accounts.
Catherine Williams
Powered by WPeMatico